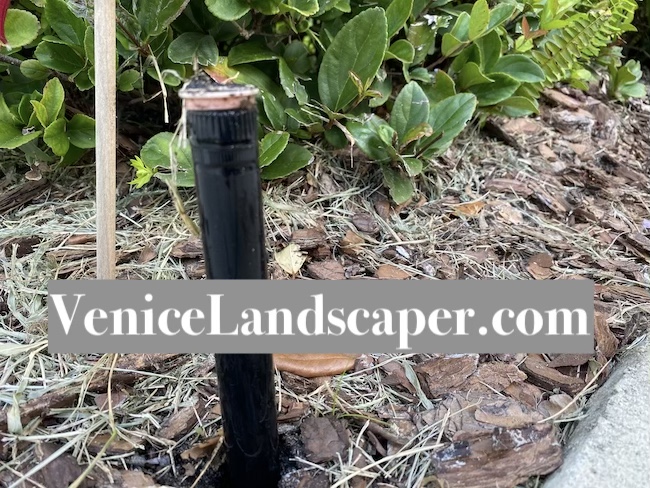 Venice Sprinkler Repair
Do you have sprinkler system issues in your Venice landscaping?
We offer sprinkler repair solutions for all types of automatic sprinklers systems in Venice Fl.
In the last 25 years we have seen nearly everything and anything you can may be experiencing. 
If you are looking for a sprinkler system installation we offer manual and automatic sprinkler system options for your yard.
Looking for Rotor, Pop-up, Spray Head or Drip System repairs? We can do it.
With so many standard sprinkler system parts and manufacturers it may be hard to know where to begin. Not sure where to start?
Ask our sprinkler repair team to give you some suggestions and then work together to find the right plan for sprinkler repair, replacement or renovation.
Venice Sprinkler Valve Repair
The brain or critical component to your sprinkler system puzzle is the sprinkler valves themselves. It doesn't matter if your sprinklers are automatic or manual you still need functioning sprinkler valves.
Your sprinkler valves control how the water is activated to allow for flow to the heads. Many times as valves age they can wear out the seals inside or start to leak.
Rather then fuss with it every day we can repair or replace the valves and bring your system to working order again with a valve service.
Venice Sprinkler Head Repair
A sprinkler system is only as good as the sprinkler heads ability to water the lawn accurately and effectively.  Many times replacing sprinkler heads is a great solution for systems that have been in a few years.
Sprinkler heads have come a long way in the last decade or so and the science and technology packed into the new heads is amazing.
No need for you to learn about flow rates, GPM, water saving technology, adjustable patterns or throw distance. Our sprinkler technicians will know what to do and what to use where.
Venice Sprinkler Renovations
Sometimes one or two head replacements wont do it, often on older sprinkler systems you may need a complete renovation. Sprinkler system renovations are when the pipe and most of the underground stays intact and we update the sprinkler heads and sprinkler valves.
Venice Landscaper Services:
Your full service Venice landscape maintenance and construction firm
Drainage Installation
Mulch & Rock
Planting
Driveways
Concrete
Venice Pavers and more